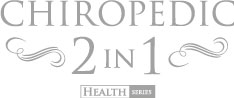 The Chiropedic 2in1 is a two in one mattress that provides exactly the same health benefits as it's Chiropedic cousins.
At the heart of it, is The Chiropedic System that guarantees the best support for your back. This product is ideal for children and young teenagers. It is also great to use in your guest room for those health discerning visitors.
Comfort Index : Extra Firm
Headboard : Smiley

Specification :

EXTRA HARD PRESSURE FOAMHigh density foam to add extra firmness to the mattress.

VELOUR / KNITTED BAMBOO FABRICBamboo fiber is used for its natural antibacterial and antifungal properties that make it ideal for people suffering from allergies.
With its high moisture absorption qualities and excellent permeability together with its softness and extreme strength, bamboo guarantees exceptional comfort and sleep.

ORGANIC ANTI DUST MITESOrdinary mattress fabrics can provide an ideal breeding ground for dust mites. These are microscopic mites that feed on dead skin cells and food particles.
They do not bite humans but their by-products are highly allergenic and can cause allergic reaction and trigger asthma. The Anti Dust Mites treatment ensures that they cannot survive on your mattress surface.

EXTRA HARD PADDING100% compressed polyester fibre that provides extra firmness to the mattress.
CHIROPEDIC SYSTEMThe Chiropedic System lends you greater support and firmness where it is needed at the middle third of your body, from shoulder to thigh.

CONVOLUTION SPRINGSmaller spring coil diameter with 6 turns convolution to achieve optimum springing and provide better support to your body.